How can this website help me?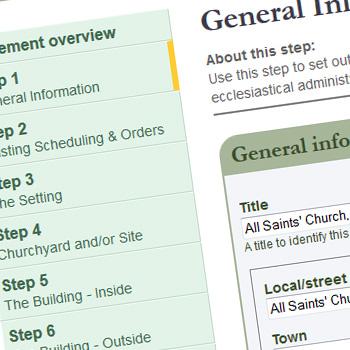 This website helps you create a Statement of Significance. It breaks down the requirements into clear, easy steps, and provides an online tool for you to enter the relevant information. Statements do not have to be completed in one go - you can save and return to your statement at any time.
Saving a statement online means you can take advantage of two key opportunities:
Other people can help! The process of creating a Statement of Significance can easily be turned into a community-wide project using the online tool. By registering an account on this website, people can gain access to edit a statement alongside others from their community. This facility is flexible, but also secure, ensuring that statements can only be edited by approved persons.

A statement for the future. A key premise of this online tool is to encourage the creation of Statements of Significance as living documents: on-going records detailing the key features and life of a building. These elements inevitably change over time, and it is an easier task to update an existing statement than create a new one every time one is required.
Alongside these community and legacy benefits, this web resource aims to make the process of actually creating the statement much easier! We've broken the various requirements down into clear sections, which are in turn divided into simple, step-by-step details that you can complete. Accompanying each section are clear instructions and suggestions regarding exactly what should be presented within the statement.
Once you are happy with the information you have provided, you can generate a PDF document file. This contains all your information, organised in a clear, concise format suitable for official submission.